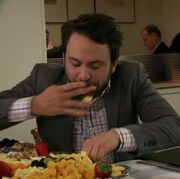 Cheese is a running joke throughout the series with Charlie: he always eats an obscene amount of it, which gives him an overwhelming odor.
---
Charlie (performing for an audience): So, you guys, you ever eat cheese? Cheese is a funny thing, cheese is a strange thing. I always wonder, like, 'What is cheese? Where does it come fro- (starts dry heaving)
---
---
---
(Charlie notices a bowl full of cottage cheese in the Family Fight green room.)
Charlie: Dennis, what is this enticing bowl of white?
Dennis: This? Charlie, that...that's cottage cheese.
Charlie: Cottage cheese? Like...cheese from some cottage? Whose cottage? Well, like, what is that, exactly?
Dennis: How do you not know what it is? Aren't you like a cheese guy?
Charlie: I'm not a cottage guy.
Community content is available under
CC-BY-SA
unless otherwise noted.