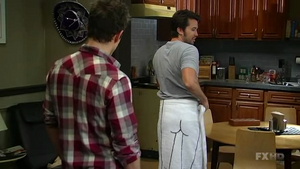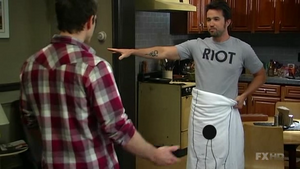 The Dick Towel is a towel with a penis on the front and an ass on the back, created by Mac in the episode "Paddy's Pub: Home of the Original Kitten Mittens."
The towel actually shows two different dicks on it: it can be turned one way to show a "big monster cock", and then flipped around the other way to show a "baby dick."
In an attempt to make money and have a product to show off at a merchandising convention, the Gang creates products to sell in the bar; Mac creates the Dick Towel. ("Paddy's Pub: Home of the Original Kitten Mittens")​
Despite a contract/restraining order against the ownership to dicktowel.com, The Gang successfully made $2500 from dicktowel.com which they use to buy a boat in "The Gang Buys a Boat".
Mac also creates a website for the Dick Towel. This can be found at dicktowel.com. A Dick Towel hat ($9.99), shirt ($14.99), and the towel itself ($19.99), can be bought on the website. The Dick Towel comes in two versions, white and black.
Community content is available under
CC-BY-SA
unless otherwise noted.