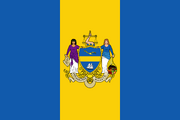 Philadelphia, PA is the home of Paddy's Pub and the setting for the
It's Always Sunny in Philadelphia. The city is home to 1.5 million people: making Philadelphia the largest city in Pennsylvania, the second most-populous city in the American East Coast, and the United States' fifth most-populous city.
Paddy's is located in South Philadelphia, a section of Philadelphia.