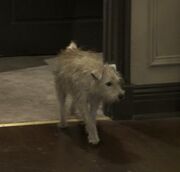 Poppins is Mac's family dog. He seems to be invincible, since he is over 20 years old and often leaves home for months at a time but always returns.
Appearances
Edit
Charlie: Yeah, that dog's nasty, man. He was, like, coughing the whole way over here. He ate a couple cigarette butts of the ground. He's got a wheeze. He might have emphysema, man.
Mac: Oh, that's entirely possible. Yeah, it wouldn't slow him down though. He's a survivor. He would disappear for months, but he would always come home.
---
---
Adriano Calvanese: Didn't you also give everybody ringworm?
Mac: No. No! That was a rumor! I only gave ringworm to Charlie. I got it from my dog Poppins, and then Charlie and I were wrestling every day because we were trying out for the wrestling team, and then, you know, we just sort of passed it back and forth.