Peter "Schmitty" Schmidt was a member of The Gang until 1999.
Early Life
Edit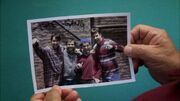 Charlie told Dennis and Mac it was either him or Schmitty. Dennis later kicked Schmitty out of a moving car and told him, "you're out of the gang".
Charlie and Schmitty were once roommates. Schmitty would not play Night Crawlers with Charlie. Schmitty thinks using blankets would benefit the game but Charlie insists it is an imagination based game.
Schmitty's mother suffered from Multiple Sclerosis. Schmitty moved in with his mother to get to know her better before the end. Charlie thought the story was a bit of a downer.
Season Six
Edit
After seeing a picture of Schmitty in their time capsule, Dennis and Mac along with Frank decide to woo Schmitty back into the gang. After Schmitty did not adhere to the gang's rules and traditions, was critical of the initiation ceremony, and did not take the gang very seriously, they decided to kick him out of the gang a second time. Frank tries to push him out of Dennis' car so Schmitty just decides to leave. ("The Gang Gets a New Member")
Season Seven
Edit
Schmitty showed up late to his high school reunion and took a very drunk Waitress home with him to bang. ("The High School Reunion, Part 2: The Gang's Revenge")
Appearances
Edit
Jason Sudeikis co-starred with Charlie Day in such movies as "Going the Distance" and "Horrible Bosses". Also, you can see them both in an episode of Saturday Night Live which Charlie hosted (s37e05).