The first season of It's Always Sunny in Philadelphia aired on FX through the end of summer into the early fall of 2005. It is composed of seven episodes and is available to purchase on DVD and digital formats.
Season Summary
Cast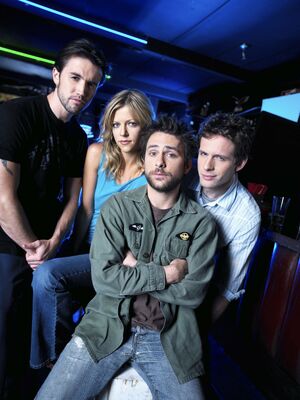 Main
Recurring
Guest
Episode List
Production and Broadcast
The show began as a short film idea written by Rob McElhenney and Glenn Howerton about a man telling his friend he has cancer, while the friend's only intent is on trying to borrow a cup of sugar. This was then developed into an ORIGINAL PILOT.
According to Glenn, the first working title for the show was "Jerks".
During the development of the series, the writers were offered $500 to come up with a title for the series that the creators liked better than "It's Always Sunny in Philadelphia". The title remained unchanged.
At first, Sunny was broadcast at 10:30 PM on Thursdays, and was a second part of FX's hour-long "Other Side of Comedy" block (with the lead-in of "Starved"). But after second episodes, this comedy block was rescheduled to Tuesdays beginning at 10:30 PM (which means what Sunny broadcasted at 11:00 PM). After three episodes, Sunny and "Starved" were split up, and the rest of the first Philadelphia season was broadcast at 11:00 PM on Tuesdays as well.
The first season's production cost was only $400,000.
The first season's slogan is "With friends like these... you're screwed".
Throughout the shooting of first season, Rob was working as a night-waiter in a restaurant.