The fifth season of It's Always Sunny in Philadelphia aired in the fall of 2009 on FX. It ran for 12 episodes and one hour-long Christmas special released on DVD on November 17, 2009. Both the season and the Christmas special are available for purchase on DVD, Blu-ray, and iTunes.
Recap
[
]
The gang deals with the economic crisis, from attempting to exploit the mortgage crisis to dealing with the impact of the Great Recession on Frank's fortune.
The gang is also up to its usual schemes: attempting to get out of traffic tickets, as well as to sell Paddy's Pub-related merchandise. They also follow up on last season's musical to put on another show: this time, a wrestling show for the troops.
The gang also struggles with their dating life. The Waitress announces her upcoming wedding, causing Dee to panic. Mac and Dennis become concerned that Charlie will be lost without the Waitress to stalk, so they introduce Charlie to the world of online dating. Dennis explains to the gang how his dating system works, although they don't get it. Finally, Dee starts corresponding with a soldier online, who eventually comes to Philly and turns out to be in a wheelchair.
Frank decides that he doesn't know how much time he has left in the world, so decides to get really weird. He becomes a slobbering drunk, attempts to hang himself after losing all his money, has sex with Artemis while she puts bacon bits in her hair, and tries to sleep with the same women as Dennis (but only after Mac has had a shot at them). Frank also dresses up as a trash man when he develops a wrestling personality for the troops. He decides he wants to see the Grand Canyon before he dies, and so the gang goes on a road trip.
Cast
[
]
Main
Recurring
Episode List
[
]
|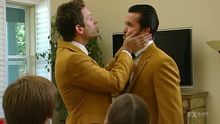 |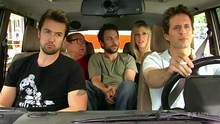 The Gang
tries to expand their horizons by going on a road trip to the Grand Canyon.
|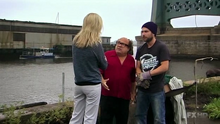 |
|
The Waitress
is getting married;
Dee
, jealous that she's beating her to the altar, tries to derail the wedding.
Charlie
reluctantly tries online dating.
|
The Gang
describes the trials and tribulations they went through during Game 5 of the World Series, hoping that the judge will clear them of all the citations they received.
|
|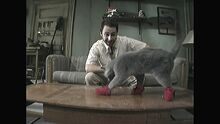 |
|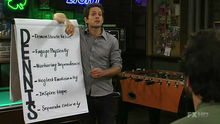 |
|
After being banned for 10 years from a local drinking competition appropriately named "
Flipadelphia
," the gang tries to reignite their old rivalry with another local bar.
|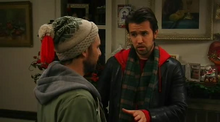 Notes
[
]
This is the first season of It's Always Sunny in Philadelphia with the picture format 16:9 (though it was shot in 480p - it wouldn't go to high-def until next season).
Like Season 4, this season has 13 episodes. However, A Very Sunny Christmas makes this season unique in two ways: the episode was sold direct to DVD and didn't air until after Season 6 ended, and it was also a special double episode.
The background music in this season is higher pitched, but reverts back to normal in the sixth season.