The sixth season of It's Always Sunny in Philadelphia aired in the fall of 2010 on FX. It ran for 12 episodes and was broadcast in 720p HD. The season is currently available on iTunes and on DVD and Blu-ray.
Season Summary
[
]
The Gang struggle first with marriage and then with divorce. Dee gets pregnant, and the Gang tries to figure out if the father is one of them or one of Dee's ex-boyfriends. The gang deals with flux in their membership: first Charlie is kicked out and becomes a janitor, then Dee quits bartending to become a teacher. The whole gang gets some big breaks: first, Dennis and Mac sell a large number of dick towels and buy a boat, then later Charlie and Mac win a radio contest; Charlie and Dennis also partner up to ditch the rest of the gang in the woods and travel to Atlantic City. Dee and Mac both try and fail to meet their idols: Dee fails to meet Josh Groban (unlike Artemis), and Mac gets lost in the woods and misses Chase Utley (unlike Charlie and Dennis).
Cast
[
]
Main
Recurring
Episode List
[
]
|
|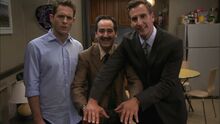 Marital bliss turns to marital business, as
the gang
experiences the emotional and economic tribulations of divorce.
|
The gang
attempts to find adventure on the sea after they purchase their 'new' boat.
|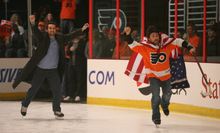 |
|
|
|
|
Directed by: Matt Shakman - Written by: David Hornsby
|
|
|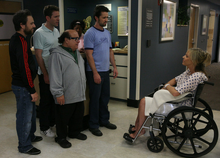 Notes
[
]
This is the first season of It's Always Sunny In Philadelphia in HD (and the second season with the picture format 16:9). (This is referred to in the end credits hidden message, which when played forwards says "Brown, now in HD!")
The show's classic opening title sequence was reshot for this season on HD-cameras. The Sunny's crew did their best to recreate the previous seasons' introduction.
So far, it's the only season where this new intro was shown "full-length".
The writers had to "write in" Dee's pregnancy because of Kaitlin Olson's real life pregnancy.
An additional episode with the production code XIP06004 was produced for this season, but, unfortunately, did not air due to the TV premiere of "A Very Sunny Christmas".  This episode was titled "The Gang Gets Successful", and footage from it was re-used in the 7th seaon episode "How Mac Got Fat".
There's a "strange" abbreviation on this season's official poster: "SPF'd up." - SPF usually stands for "sun protection factor" on sunscreen labels, so it's just a pun on that and an expression of being "fucked up".