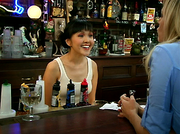 Sun-Li is a 12 year old Korean American waitress who followed Charlie Kelly to his home from her father's bar.
She is portrayed by Tania Gunadi.
Personality
[
]
Sun-Li likes pizza, hates mean people and kissing.
Sun-Li thinks that Dennis smells like dog fart.
Sun-Li likes to "beer" but her father won't let her.
She approves of Dee being a "dirty whore."
She is only twelve but looks much older, enough to unintentionally fool the Gang.
Season Three
[
]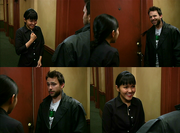 She moved into Charlie's apartment, but he didn't even kiss her, even though they were briefly engaged.
Sun-Li entered the karaoke contest of the bar, where she sang a North Korean song about her "Dear Leader".
Charlie agreed to let Dennis hose her down with water as part of a wet tee shirt contest, but then he discovered that she was only 12 years old.
Frank then jumped between Sun-Li and the water, to prevent her body from being exposed by a wet tee shirt.
Appearances
[
]