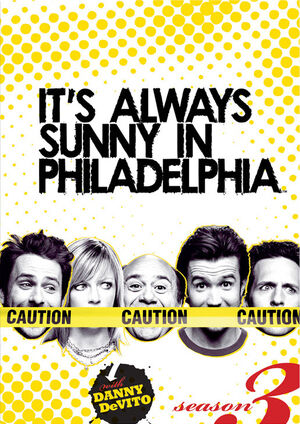 The third season of It's Always Sunny in Philadelphia was released onto region one DVD on September 9, 2008 in a three-disc set. It contains all fifteen Season 3 episodes and bonus features.
Welcome back for another round at Paddy's Irish Pub, where mentally challenged rappers rub elbows with sex offenders, and where business as usual means sabotaging the bar down the street, selling coke for the mob and adopting dumpster babies for kicks. Sick and twisted political incorrectness has never been this laugh-out-loud hilarious!
Join the wildly inappropriate gang at Paddy's as they wreck dysfunctional havoc on their customers -- and each other! Find out who's the gigolo, who's the biggest loser, and who's been sleeping with the pre-op transsexual... again! It's Always Sunny in Philadelphia is your last call for over-the-top outrageousness. Cheers!
Sunny Side Up Volume 2 Making-of featurette
Meet the McPoyles Featurette
Dancing Guy Featurette
Gag reel
Season 3 TV spots
Community content is available under
CC-BY-SA
unless otherwise noted.