"The Gang Gives Frank an Intervention" is the fourth episode of the fifth season of It's Always Sunny in Philadelphia.
Synopsis
[
]
Dee, Dennis, and Charlie attempt to stage an intervention on Frank, who they feel is no longer fun to drink with. Meanwhile, Frank attempts to bang Aunt Donna, who Mac is also interested in banging.
Recap
[
]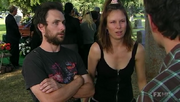 11:00 A.M. on a Wednesday.
As the gang rides in Dennis's Range Rover, they comment on how much of a drunk Frank has become recently. He states that he has let go of all reservations and is living as depraved as possible. They arrive at a park expecting a cookout but find a funeral for their Uncle Max. Frank tells the gang that he wants to bang their Aunt Donna.
As the crowd leaves the funeral, Frank tries to hit on Aunt Donna, but she refuses him. Mac swoops in and tries to flirt, but she ignores him as well. Dee and Dennis warn Charlie about how awful their cousin Gail the Snail is, and he agrees with them when he meets her. Dee, Dennis and Charlie then agree to get Frank help with his alcoholism.
Dee, Dennis and Charlie meet with a therapist to prepare an intervention for Frank. After she turns down their idea to bring guns to his intervention, they leave and decide to do it themselves. Meanwhile, Frank and Mac walk home from the funeral and Mac convinces Frank to go for Gail instead of Donna.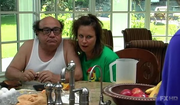 Back at the bar, Dennis, Dee, and Charlie prepare the intervention. Charlie is most upset that Frank no longer plays Night Crawlers anymore. After they insult his illiteracy, Charlie decides they should get the therapist anyway and leaves to get her. At Aunt Donna's house, Mac cooks breakfast after breaking into the kitchen. Frank and Gail enter and Gail gives Frank a handy under the table. Donna kicks them out.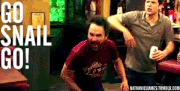 At Paddy's, the therapist arrives to find Dee, Dennis, and Charlie drunk off wine in a can. Frank arrives, gun in hand, and they manage to wrangle it away from him. They begin the intervention and he thinks it is a roast. Dennis and Dee interrupt and have another intervention on Charlie for his illiteracy. Mac and Gail arrive, and the gang has another intervention on him for being with Gail. He says she won't leave him alone and lets slip to Frank that he banged Barbara Reynolds. Their attention is returned to Gail the Snail who is making drinks at the bar, and Charlie salts her until she leaves. They consider their interventions successes and tell the therapist to leave, while they all drink wine out of a can.
Alliances
[
]
Charlie, Dee, and Dennis attempt to give Frank an intervention.
Mac and Frank try to bang Aunt Donna and Gail, respectively.
Cast
[
]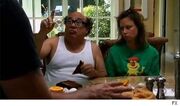 Starring
[
]
Guest Starring
[
]
Trivia
[
]
Mac bangs Barbara Reynolds in "Mac Bangs Dennis' Mom".
From an extended scene "The Gang consults a professional" we learn that the pamphlets, which Charlie was providently grabbing from Tabitha's parlor, were actually about anorexia.
Sadly, there's no such brand of boxed wine as Zuko Vineyards. Here's a page from the prop designer who made the box for the show.
As Donna ejects Frank and Mac from her house she argues with Gail which provides Frank an opportunity to help himself to eggs from the breakfast bar, the first sign of his ongoing fascination with them
At the beginning of the episode, the rest of the gang berates Frank for drinking wine out of a soda can. By the end of the episode, they are all drinking it.
Quotes
[
]
---
---
---
---
---
---
---
---
---
---
---
---
---
---
---