"The Waitress is Getting Married" is the fifth episode of the fifth season of It's Always Sunny in Philadelphia.
Synopsis
[
]
The Waitress is getting married; Dee, jealous that she's beating her to the altar, tries to derail the wedding. Charlie reluctantly tries online dating.
Recap
[
]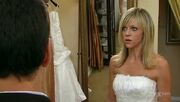 12:30 PM on a Saturday
As Dee tries on wedding dresses, she runs into an old high school flame Brad Fisher who is now very attractive. He reveals he is getting married and introduces his fiancee - The Waitress.
Back at Paddy's, Charlie works on knocking a hornet's nest from the ceiling. Dee calls Dennis and Mac into the office where she breaks them the news. They fear Charlie might go postal and murder them if he finds out, so they decide to find him a new girl to stalk. Dee says she will try to derail the wedding, and the guys laugh at her.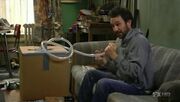 At Charlie's apartment, he tries to smoke the hornets to death with a cigarette and a cardboard box so he can get to their honey. Mac and Dennis help him write an online biography for an online dating site, but after he delivers several terrible answers they decide to make it all up for him.
Dee drives around looking for Brad and the Waitress and parks in the middle of the street to invite them to her apartment for her bachelorette party. At the party, Dee convinces Charlie's mom to get drunk and yell at the Waitress for breaking Charlie's heart, and Mrs. Mac to convince Brad that the Waitress will grow old to look like herself. Frank and Artemis make out during the party and Dee's plans fall apart when Bonnie tosses her drink on Dee's face. The Waitress leaves, and Brad privately confesses his love for Dee.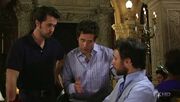 At a restaurant, Dennis and Mac coach Charlie for a blind date. He is sweating profusely through his shirt, and the hornet stings on his face are bleeding. He tries to tell his date, Jackie, that he is a philanthropist but says he is a "full-on-rapist". When Jackie figures out he was trying to say "philanthropist," he admits he is "a janitor at a bar". He tries to go to the bathroom to recoup, but his efforts don't work and Dennis and Mac pretend to be the owners of the restaurant to impress Jackie. Instead, she leaves. Charlie freaks out, and Dennis reveals that the Waitress is getting married.
Charlie takes the box of hornets over to Brad's apartment as a congratulatory gift. There, Brad reveals that he has just been getting engaged to girls who broke up with him in high school because of his acne, and dumping them right before the wedding to get revenge, and that he just got through doing it to the coffee shop waitress. Charlie hands him the box telling him he can keep the present anyway.
Cast
[
]
Starring
[
]
Guest Starring
[
]
Trivia
[
]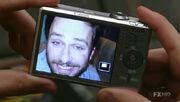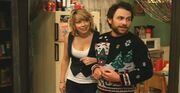 Artemis and Frank are bang-buddies now, and they have a "food fetish" (which is, probably, the hyperbole parody for "Nine 1/2 Weeks").
Charlie eats large blocks of cheese when he gets nervous.
Brad Fisher went to the Gang's high school.
Brad will later appear in the 7th Season two-part finale. In that episode, we see that the stings from the hornets Charlie gave him left a lifelong scars on his face.
This is one of the few episodes where the whole Gang isn't together for a scene. Charlie is outside dealing with hornets when the other four are in the office, and each subsequent scene only feature two or three members of the Gang.
This episode was filming at the same time with Christmas special.
Quotes
[
]
---
---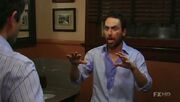 ---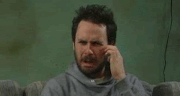 ---
---
---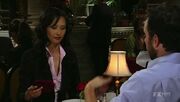 ---
---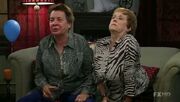 ---
---
---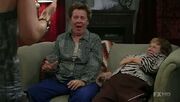 ---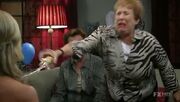 ---
---
---